Yesterday, we were joined by eBay's Head of SEO, Jordan Koene, for a webinar to discuss how his team combines CrowdFlower's workforce with algorithmic approaches to:
Audit eBay's massive library of pages
Pick the most relevant pages, effective titles and content
Align with Google's high-quality guidelines in order to rank higher in search results and much more.
If you missed the live webinar, you can watch a recording here.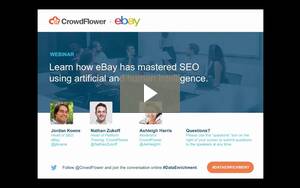 If you'd like to learn how CrowdFlower can be used to strengthen your SEO, fill out your contact details and someone from our team will get back to you promptly.